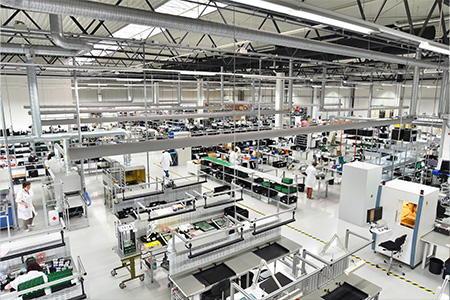 MANUFACTURING
State-of-the-art facilities
Our products are produced in state-of-the-art facilities with around 1000 sqm of contiguous production space – including an air-conditioned enclosure for SMD production. The production facility is temperature-, humidity-, and ESD-controlled.
The production is equipped with modern automated storage systems in which almost all components are stored for particular fast access. Jet printer, SMD assembly, vapour phase soldering systems, 3D AOI, selective soldering systems and washing facilities allow us to produce our products efficiently with constantly high quality.
We partner exclusively with a handpicked group of local German suppliers for printed circuit board (PCB) fabrication, CNC machining and Conformal Coating, who can meet our highest quality requirements.
Flexibility
Two SMD Lines allow our production to be highly flexible. Allowing the fast production of prototypes and small quantities of custom products but also large series.
Inspection and 100% Testing
Delivering products of the highest quality possible is at the core of our DNA. Our boards undergo 3D AOI (Automatic Optical Inspection) during production. Our regularly trained and certified test engineers perform Final Factory Acceptance Test according to IPC-A-610 Class 3 standards on every board. The Factory Acceptance Test includes electrical and functional testing.