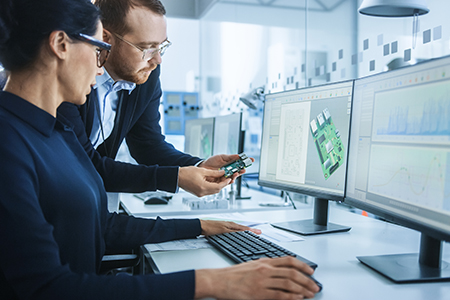 CAREERS
A team of world-class engineers
Since 1973, TEWS Technologies is a world-class engineering design center with a close-knit dedicated team of hardware, software, system, and FPGA engineers. We offer a dynamic and team-oriented environment where your contributions will be immediate, and your interaction with the team will lead to continued acquisition of cutting-edge skills to develop your talents. We work with large OEM system manufacturers around the world to create embedded I/O products with the latest technologies for the most demanding applications and environments.
Open Positions
TEWS offers competitive compensation, an environment that promotes work/life balance and flexibility, and comprehensive benefits.
We are seeking team-oriented candidates who want to be challenged every day for the following positions:
We are looking for experienced Hardware Engineers who will work as part of an engineering team to design, develop, and support standards-based embedded products using the latest I/O and FPGA technology as part of our skilled and tight-knit design teams. You will be involved in all aspects of board-level product design through the formal transfer to production. This key position has broad exposure to and close interaction with all aspects of board design, bring-up and debug, production and qualification testing, and production planning.
You cannot find anything suitable? You can still apply.
Even if we aren't currently offering a position publicly that suits you, we are happy to hear from you. A speculative application is always worthwhile. Your application will be treated in the strictest confidence. Please submit your unsolicited application with your CV and letter of motivation to career@tews.com
Opportunities for Bachelor and Master Students
We are proud to support Bachelor and Master Engineering Students with valuable work experience and insights into the world of electronical engineering. Many of our current senior engineers joined our team as students working on their thesis making their first steps with us to begin their career with our company and world-class engineering team.